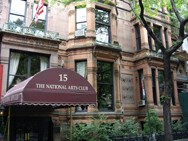 National Arts Club Exhibition - New York City
January 2009 - National Arts Club, Gramercy Park, New York, NY
More information on the National Arts Club
The National Arts Club is a private club founded in 1898 to "stimulate, foster, and promote public interest in the arts and to educate the American people in the fine arts". Since 1906 the organization has occupied the Samuel J. Tilden House, a landmark Gothic Revival brownstone at 15 Gramercy Park, New York City, New York.
The club offers a variety of shows, educational programs, and awards in areas including theater, visual arts, film, literature and music.
The National Arts Club is one of the few private clubs which has, since its inception, admitted women as full and equal members. Among the distinguished painters who have been members are Robert Henri, Edward Charles Volkert, Frederic Remington, William Merritt Chase and Cecilia Beaux. Sculptors have included Saint-Gaudens, Daniel Chester French, Anna Hyatt Huntington and Paul Manship. Many renowned literary figures, including W. H. Auden and Mark Twain, have been members.
The National Arts Club is proud of its early recognition of new media artforms, like photography, film and digital media, and counts Alfred Stieglitz as one of its early members. Musicians Victor Herbert and Walter Damrosch were members, as were architects Stanford White and George B. Post. The Dramatic Arts are currently represented by members Martin Scorsese, Ethan Hawke, Dennis Hopper, Robert Redford and Uma Thurman, and the literary arts by such writers as Frank McCourt, Alice Hoffman and Edward Renehan. As well, the membership of the National Arts Club has included three presidents: Theodore Roosevelt, Woodrow Wilson and Dwight Eisenhower.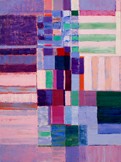 d

art

International Review - Fall 2008
Seasons
Blaise DeLong at Moore Gallery
The works in this exhibition demonstrate a mastery of the Modernist idiom, with DeLong's confidence in her own painting processes well established. These beautiful paintings hover like mirages, inviting the viewer to plunge into their illusion." - Ashley Johnson 2008